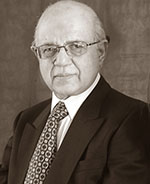 Syed Nawab Haider Naqvi
HEC Distinguished National Professor, Federal Urdu University of Arts, Science and Technology, Islamabad.
Syed Nawab Haider Naqvi is at present HEC Distinguished National Professor and Director General at Federal Urdu University of Arts, Science and Technology, Islamabad. He was awarded the Life-Time Academic Achievement Award in December 2009 in recognition of his long and distinguished academic career.
He got his MA from Yale University (1961) and PhD from Princeton University (1966) and did his post-Doctoral work at Harvard University (1971). He has published a large number of articles, books, and monographs on diverse aspects of economics. Some of the prominent academic and policy-making positions he has held so far include: Visiting OECD Professor at Middle East Technical University (1972–1975); Professor of Economics at Quid-e-Azam University, Islamabad (1975–1980); Visiting Professor, Heidelberg University (1978) on leave from Quaid-e-Azam University; Director, Pakistan Institute of Development Economics for 18 years (1979–1995), Founder-President of the Society of Development Economists, Islamabad; and National Professor of Economics, Government of Pakistan (1996–2004). He was Chairman and member of the Board Management of the Asia-Pacific Development Center in Kuala Lumpur from 1982 to 1993. He was member and Chairman of the United Nation's Sub-Link Project for several years. He was Chairman of the Committee on Economic and Social Well-being for the Eighth Five Year Plan, constituted by the Government of Pakistan, 1992; and Chairman, Committee on Islamization, appointed by the Finance Minister, Government of Pakistan, 1980.
Professor Naqvi was awarded the Sitara-e-Imtiaz in Economic Science in 1991 by the President of Pakistan, and given the ECO award for doing distinguished work in economics in 1992 at the Istanbul Summit Meeting of the Heads of State.