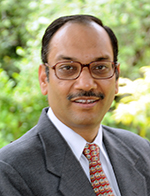 Anurag K. Agarwal
Faculty, Business Policy Area, IIM Ahmedabad.
Anurag K. Agarwal, after completing Master of Laws from Harvard Law School, plunged into the world of academics and has been with IIMA since 2004.

He graduated as a mechanical engineer from Motilal Nehru Regional Engineering College (MNREC), Allahabad, (now known as MNNIT) in 1990. He worked with Bharat Petroleum for less than a year, before deciding to study law, completed Bachelor, Master and Doctor of Laws from Lucknow University, and a second Master of Laws from Harvard Law School. He practised as an advocate in Lucknow for about seven years and in Delhi for about a year–and-a-half, switched over to full-time teaching in 2004, with a brief stint at Management Development Institute (MDI), Gurgaon, and then with IIMA, in the Business Policy area.

He has been the recipient of the first Marti Mannariah Gurunath Outstanding Teacher Award for the batch of 2011–2013, instituted by Professor Marti G. Subrahmanyam, Stern School, New York University (PGP 1969, IIMA), in the memory of his father.
He has been the chairperson of the One Year Post-Graduate Programme in Management for Executives (PGPX), the chairperson of the Post-Graduate Programme in Public Management and Policy (PGP-PMP), the chairperson of the Business Policy area and the students exchange coordinator at IIMA.

He has coordinated and conducted executive education programmes for the government and for a large number of public and private companies.

His teaching and research interests primarily are in the area of business dispute resolution by arbitration. Other areas of interest are infrastructure, corporate governance, government and law and intellectual property.
He has authored the book Business and Intellectual Property: Protect Your Ideas (2010) and writes 'Lawfully Yours', a popular weekly column for DNA, Ahmedabad.