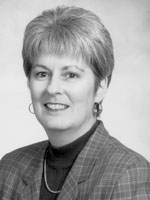 Barbara P. Benson
Teacher and Consultant
Barbara Benson
is a teacher and international consultant with more than 20 years of experience in middle school, high school, and university education. She works with school systems in various capacities such as helping align curriculum, instruction, and assessment practices with higher state standards, facilitating the development of performance assessment tasks such as student-led conferencing, and assisting teachers as they apply current theory and research to their classrooms. Her workshops are practical and classroom focused, covering many topics related to improving student learning. She has presented sessions at the national conferences of the National Staff Development Council and Association for Supervision and Curriculum Development. She has published numerous articles on classroom practice and a book,
How to Meet Standards, Motivate Students and Still Enjoy Teaching
(2003). As a full-time consultant, she missed working directly with students, so Benson returned to the classroom in 2004 and is teaching middle school in Ashe County, North Carolina.