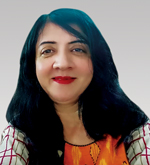 Deepa Sethi
Indian Institute of Management, Kozhikode, India
Deepa Sethi
is Professor, business communication, in the area of humanities and liberal arts in management at the Indian Institute of Management Kozhikode, India. With more than 15 years of teaching and research experience, she specializes in business communication, soft skills, social media communication, advanced corporate communication and cross-cultural communication, among others. She has published in high-impact factor ABDC-A* and A/B category journals. She is also the guest editor of various special issues of journals listed in ABDC and Scopus.
Experiential and activity-based teaching have been her forte, and she is known for her style of teaching which has practical implications in addition to the theoretical underpinnings. Her training programmes on topics such as managerial effectiveness lab, communication effectiveness lab and soft skills for interpersonal effectiveness for working executives are highly acclaimed. Her faculty development programme titled Innovative Approaches in Management Teaching is much sought after.
She has a flair for writing and likes to read interesting books and do gardening in her leisure time. She values humility and integrity in life and believes in live and let live! Known for her sense of humour and assertiveness, she loves nature, specifically flowers, a lot.