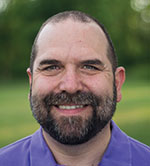 Gerald Aungst
School District of Cheltenham Township; Elkins Park, PA
Gerald Aungst has nearly 30 years experience as a professional educator, specializing in design thinking, computer science, mathematics, gifted education, and digital technology. In his various roles as a classroom teacher, gifted support specialist, administrator, curriculum designer, and professional developer, he has worked to create a rich and vibrant learning culture. Gerald is a founder of AllAboutExplorers.com and GamifyED.net.
Since 2016, Gerald has served as the gifted support and STEM teacher at Cheltenham Elementary School in the Cheltenham School District, Pennsylvania. He led the development and launch of the school's makerspace, and worked on the team developing the district's K-12 computer science curriculum. Gerald is also an adjunct faculty member at Holy Family University in Philadelphia and the University of Iowa.
An experienced speaker, Mr. Aungst gave the keynote address at the 2016 EIRC Gifted and Talented Learning Fair. He was also a member of the keynote panel and a featured presenter at Digital Learning Day 2013. He has presented on a wide range of topics including curiosity, makerspaces, and gamification at many regional and national conferences, including ISTE, Educon, NAGC, PCTM, PETE&C, ITEC, FETC, and Carnegie-Mellon University.
Gerald holds a bachelor's degree from Penn State University and a master of education degree from Widener University. You can find him on Twitter at @geraldaungst and on the web at www.geraldaungst.com.