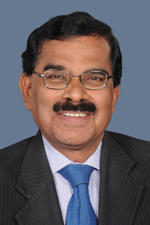 K. V. Thomas
Formerly at Intelligence Bureau (IB), Ministry of Home Affairs, Government of India
K. V. Thomas, a law graduate from Kerala University, has over 36 years of distinguished career in Intelligence Bureau, Ministry of Home Affairs, Government of India, in various capacities in different parts of India including the far-flung insurgency-affected areas of the North East.

For his outstanding contributions to the Bureau, he was decorated with President's Police Medal for distinguished service (2008) and Indian Police Medal for meritorious service (1996), besides special awards of the Bureau for his outstanding professional contributions in the field of Internal Security. The National Police Academy, Hyderabad awarded him Police Fellowship in 1997 for undertaking a research project on Policing which he successfully completed in 1998. He won Prime Minister's Silver Cup Essay Competition conducted by National Police Academy for the serving police personnel in the country on six times. As a delegate to All India Police Science Congress he presented research oriented papers on various aspects of policing, including human rights issues, on half a dozen occasions.

K. V. Thomas (aka Toms Kara) superannuated from IB in 2010 as Assistant Director. He is now fully engaged in bringing out quality publications in various subjects especially Internal Security/law enforcement, Human Rights and Insurgency. He has authored two books: Human Rights, Terrorism and Policing in India (1999) and Policing in 21st Century—Myth, Realities and Challenges (2012).