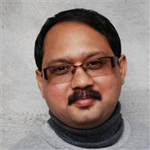 Nani G. Mahanta
Director of Centre for South East Asian Studies, Gauhati University
Nani Gopal Mahanta
is a professor of political science at Gauhati University, Assam, India. He was formerly Head of the Department, Political Science, and Registrar (2018–2019), Gauhati University. Dr Mahanta is currently the Director of the Centre for South East Asian Studies, Gauhati University, which was established by the Government of Assam to facilitate research and people-to-people contact as part of the Act East policy. His research interests include India's Northeast and Southeast Asia, peace and conflict resolution, human development and security, insurgency, ethnicity and identity politics. A Jawaharlal Nehru University (JNU) alumnus, Dr Mahanta was a Rotary World Peace Fellow at the University of California, Berkeley, from 2002 to 2004. As a World Peace Fellow, he travelled to various parts of the world, including Europe and South Asia, for his internship and empirical work. Dr Mahanta has published extensively in national and regional newspapers and journals and has authored several books. He regularly participates in debates and discussions on multiple issues in the state and nation on various platforms, including television and print media. He was felicitated with the Education Research and Development Foundation (ERDF) Excellence Award in 2009 for creating public awareness about civic and social rights and responsibilities. He is actively associated with several policymaking bodies of the Government of Assam. He is currently a member of the State Innovation and Transformation Aayog (SITA). He has provided consultancy services to the Department of Education, Government of Assam, Secondary Education Board of Assam (SEBA), Cotton College and others. He is the President of Governing Body, Handique Girls College—the oldest women's college of Assam. He served as the President of the Northeast India Political Science Association (NEIPSA) from 2014 to 2018.
Dr Mahanta has delivered lectures, upon invitation, at various prestigious world forums, such as the Rotary International World Peace Symposium in Chicago, United States, in June 2007, the Second World Peace Symposium in Birmingham (United Kingdom) in September 2008 and the Rotary International World Peace Symposium held in Bangkok, Thailand, in May 2013.
Dr Mahanta was a visiting fellow at the Peace Research Institute Oslo (PRIO), Manohar Parrikar Institute for Defence Studies and Analyses (MP-IDSA). His book Confronting the State: ULFA's Quest for Sovereignty was published by SAGE Publications in 2013. He has edited several titles in English and Assamese. His hobbies include playing badminton and popularizing the game. He has been the Vice President of the Assam Badminton Association for the last 5 years, and he is the President of Hatigarh Indoor Stadium, which was built as part of a community initiative to popularize badminton and table tennis in Guwahati city. Born into a Vaishnavite Satriya family in Sivasagar, Assam, he is a connoisseur of 'Naam Prasanga' and the Satriya ethos.