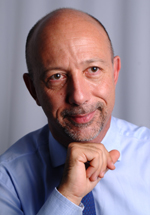 Stefano Pelle
Managing Director, Piaggio India, Motoplex concept showroom, Kochi
Stefano Pelle obtained a Master's Degree with Honors in Economics from LUISS University of Rome and a Post Graduate Diploma in Marketing from the School of Management of the same university. He completed his second Master's Degree in Political Science from La Sapienza, University of Rome. During his career he attended executive education programs in renowned institutes such as HEC, ESSEC, INSEAD and London Business School.

He joined Price Waterhouse in 1985 but started his marketing career in 1987 with Johnson and Johnson. After spending six years in the FMCG sector, he moved to the services industry as Head of Marketing of Iberia Airlines. He subsequently joined the Italian Railways as the Marketing and Sales Director, and later took over the responsibility of the High Speed Train Division. In 1998, he joined the Perfetti Van Melle Group, the third largest sugar confectionery group in the world, to oversee the India operations of Perfetti Van Melle as the Managing Director.

Since September 2005, Stefano Pelle is the Vice President and Chief Operating Officer of the Perfetti Van Melle Group, with direct responsibility for the South Asia Business Unit. He operates out of Dubai. For three years he also handled Russia and the CIS countries in addition to South Asia. Since April 2012 he is Executive Vice President and COO for the PVM Group and handles South Africa, Middle East and Africa.

Stefano Pelle also holds the position of Chairman for the Indian operating company, Perfetti Van Melle India, as well as for PVM Bangladesh and Sri Lanka. For his work in South Asia, he received the highest award of Knight Commander (Commendatore) from the President of Italy in 2006.

Despite his busy schedule in the Perfetti Van Melle Group, Stefano dedicates his free time to academics. He was invited as a speaker at the meeting of the Academy of Management, in August 2011 in San Antonio, Texas, USA. He published in 2007 the book Understanding Emerging Markets: Building Business BRIC by Brick as well as several essays. He has taught International Business and other topics in the European School of Economics, Rome, and is Honorary Professor in IMI (International Management Institute), New Delhi. Since 2007 he has been cooperating with LUISS University of Rome, Faculty of Economics, as Lecturer for International Marketing and International Business and with LUISS Business School for their executive education programs. He has also published several articles and essays in newspapers, management journals, and magazines.