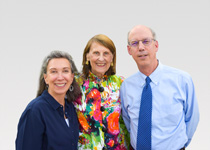 Stern Center for Language and Learning
The Stern Center for Language and Learning is a nonprofit organization dedicated to helping children and adults reach their academic, social, and professional goals. A leader in the field of education and learning, the Stern Center provides comprehensive evaluations and customized instruction for all learners, including those with learning disabilities, language disorders, social learning challenges, autism, attention deficit disorders, communication disorders, giftedness, and learning differences.
Founded in 1983, the Stern Center also provides professional learning for educators. The Stern Center's professional learning programs are offered through the Cynthia K. Hoehl Institute for Excellence (CKHIE), which was established in 2008 to bring research on evidence-based best practices to educators. It is a hub for structured literacy programs through our Orton Gillingham Institute, partnership with Wilson Language Systems, and our Comprehensive Reading Course for Educators online. CKHIE offers grants for professional learning for teachers and intensive instructional services for students. The Stern Center integrates individual and group social learning as well as communication services within its educational programs.
Blanche Podhajski, Ph.D., founded the Stern Center with a mission to provide direct services for individuals of all ages, to deliver exceptional professional learning programs for educators, and to share research on evidence-based best practices. Dr. Podhajski teaches and consults with educators throughout the country and is a frequent presenter at regional and national conferences. She co-authored the Comprehensive Reading Course for Educators produced by MindPlay as well as MindPlay's Teacher Companion. In addition, she is the co-author of Sounds Abound and Building Blocks for Literacy, a course that provides professionals who work with children from birth to age five strategies to promote robust language development and pre-literacy skills.