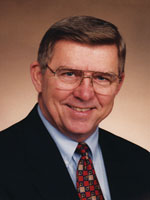 William K. Poston, Jr.
Iowa State University, USA
Learn more about William Poston's PD offerings

William K. Poston Jr.
is an Emeritus Professor of educational leadership and policy studies at Iowa State University in Ames, Iowa, where he served for 17 years. A former math and physics teacher, he accumulated 25 years of experience in educational administration including 15 years as a superintendent in Tucson and Phoenix, Arizona, and in Billings, Montana. His experience includes serving as executive director of the Iowa School Business Management Academy—the licensure program for school business managers in Iowa—for 15 years. He is the originator of curriculum-driven budgeting, and he has led over 75 curriculum audits. Poston has written 13 books and over 40 journal articles and continues to provide extensive service to schools in the areas of evaluation, curriculum management auditing, performance-based budgeting, and organizational quality improvement.