Pathfinders
A Journey through India's Art and Culture
---
May 2015 | 848 pages | SAGE Publications Pvt. Ltd
Pathfinders is an invaluable collection that traces the evolution of different art forms in India.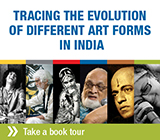 Featuring in-depth and visually rich narratives on both the history and the history makers of Indian art forms since 1950, the set contains six dedicated volumes on Music, Visual Arts, Dance, Literature, Theatre and Cinema. Each volume contains an 'introductory piece' describing the evolution of the particular art form, and an 'end piece' which discusses its contemporary relevance. There are exclusive interviews with legends from their fields interspersed with biographies of exponents of a particular art form. The narrative is rich with facts and interesting anecdotes, while a rare collection of photographs add grandiose to the entire set.
The volumes in the set include:
Volume I: Music
Volume II: Visual Arts
Volume III: Dance
Volume IV: Literature
Volume V: Theatre
Volume VI: Cinema
Volume I: Music
Shashi Vyas
Note
Devina Dutt and Mukta Rajadhyaksha
Note from the Editors
Zakir Hussain
Foreword
Aroon Tikekar
Introduction
Aneesh Pradhan
Music from North India: The Dynamics of Changing Traditions and Trends
Chitravina N. Ravikiran
Carnatic Music from 1950–2010: Modern Interpretations of An Ancient Art
Kumar Gandharva in Conversation with Ashok Vajpeyi
Pandit Ravi Shankar in Conversation with Satish Vyas
Profiles
Ariyakudi Ramanuja Iyengar
Ustad Bade Gulam Ali Khan
Pandit Jagannathbua Purohit
Semmangudi Srinivasa Iyer
G.N. Balasubramaniam
Pannalal Ghosh
Tanjavur Brinda
Palaghat T.S. Mani Iyer
Ustad Amir Khan
Bismillah Khan
M.S. Subbulakshmi
Ustad Allarakha
D.K. Pattammal
C.R. Vyas
Ali Akbar Khan
Bhimsen Joshi
T. R. Mahalingam
Tanjore Viswanathan
Ustad Vilayat Khan
Pandit Jasraj
Kishori Amonkar
Jitendra Abhisheki
Shivkumar Sharma
Hariprasad Chaurasia
Amjad Ali Khan
Zakir Hussain
Hrishikesh Dixit
Hindi Film Music: A Post-Republic Retrospective
Glossary
Volume II: Visual Arts
Ranjit Hoskote
The Artist's Journey: A Story of Six Decades
Sudhir Patwardhan in Conversation with Ranjit Hoskote
Navjot Altaf in Conversation with Nancy Adajania
Profiles
Benode Behari Mukherjee
Ramkinkar Baij
K.C.S. Paniker
K.K. Hebbar
Chittaprosad Bhattacharya
M.F. Husain
K.G. Subramanyan
V.S. Gaitonde
F.N. Souza
Tyeb Mehta
J. Swaminathan
Akbar Padamsee
Bhupen Khakhar
Nasreen Mohamedi
Gulam Mohammed Sheikh
Vivan Sundaram
Nalini Malani
Anita Dube
Bose Krishnamachari
Atul Dodiya
Subodh Gupta
Ranjit Hoskote
The Third Field of Indian Art
Volume III: Dance
Devina Dutt and Prakriti Kashyap
A Rich and Fragmented Heritage
Birju Maharaj in Conversation with Anjana Rajan
Padma Subrahmanyam in Conversation with Gowri Ramnarayan
Profiles
Uday Shankar
Guru Paimkulam Rama Chakyar
Pandit Shambhu Maharaj
Rukmini Devi Arundale
T. Balasaraswati
Mrinalini Sarabhai
Guru Bipin Singh and The Jhaveri Sisters
Kelucharan Mohapatra
Chandralekha
Vempati Chinna Satyam
Kumudini Lakhia
Kumari Kamala
Kalamandalam Gopi
Yamini Krishnamurti
Sathyabhama and Bharati Shivaji
Sanjukta Panigrahi
Sonal Mansingh
Astad Deboo
Pandit Durga Lal
Sucheta Bhide Chapekar
Prakriti Kashyap
Forgotten Rhythms
Glossary
Volume IV: Literature
K. Satchidanandan
Negotiating Heterogeneity: Indian Literature after Independence
Krishna Baldev Vaid in conversation with Nirupama Dutt
Dr U. R. Ananthamurthy in conversation with Gowri Ramnarayan
Profiles
Firaq Gorakhpuri
Tarashankar Bandopadhyay
Jibanananda Das
Dr K. Shivarama Karanth
Vaikkom Mohammad Basheer
B.S. Mardhekar
Ashapurna Devi
Agyeya
Umashankar Joshi
Ismat Chughtai
Saadat Hasan Manto
Thakazhi Sivasankara Pillai
Sachi Routray
Gajanan Madhav Muktibodh
Gopalakrishna Adiga
Suresh Joshi
Vinda Karandikar
Harbhajan Singh
Phanishwarnath Renu
Krishna Sobti
Mahasweta Devi
Qurratulain Hyder
Nirmal Verma
O.V. Vijayan
K. Ayyappa Panikar
Jayakanthan
Sujatha (S. Rangarajan)
Nina Martyris
Holding a Mirror to Shifting Equations
Volume V: Theatre
Shanta Gokhale
The Collective Theatres of India: A Celebration of Style and Content
Vijaya Mehta in Conversation with Mukta Rajadhyaksha
Girish Karnad in Conversation with Gowri Ramnarayan
Profiles
Sombhu Mitra
P.L. Deshpande
Habib Tanvir
Ebrahim Alkazi
Badal Sircar
Mohan Rakesh
Vijay Tendulkar
Kavalam Narayana Pannikar
Utpal Dutt
B.V. Karanth
K.V. Subbanna
Satyadev Dubey
Mahesh Elkunchwar
Heisnam Kanhailal
Jabbar Patel
Amol Palekar
Usha Ganguli
Ratan Thiyam
Satish Alekar
Neelam Mansingh Chowdhury
B. Jayashree
Naseeruddin Shah
Mukta Rajadhyaksha
Marathi Theatre: A Confluence of Genres
Volume VI: Cinema
Maithili Rao
A Kaleidoscope of Forms
Shyam Benegal in Conversation with Mukta Rajadhyaksha and Devina Dutt
Aparna Sen in Conversation with Devina Dutt and Dr Shoma A. Chatterjee
Profiles
V. Shantaram
Mehboob Khan
Guru Dutt
Bimal Roy
Satyajit Ray
Hrishikesh Mukherjee
Mrinal Sen
Tapan Sinha
K. Balachander
Raj Kapoor
Ritwik Ghatak
Vijay Anand
G. Aravindan
Gulzar
Sai Paranjpye
Adoor Gopalakrishnan
Girish Kasaravalli
Mani Ratnam
Saeed Mirza
Mira Nair
Rituparno Ghosh
Deepa Gahlot
The Magic of the Movies: The Hindi Film Industry
---
HEOA Compliance
Available formats
| | | | |
| --- | --- | --- | --- |
| ISBN: 9788132118947 | Paperback | Suggested Retail Price: $280.00 | Bookstore Price: $224.00 |
Should you need additional information or have questions regarding the HEOA information provided for this title, including what is new to this edition, please email sageheoa@sagepub.com. Please include your name, contact information, and the name of the title for which you would like more information. For information on the HEOA, please go to http://ed.gov/policy/highered/leg/hea08/index.html.
We hope you'll consider this SAGE text. Email us at info@sagepub.com, or click here to find your SAGE rep.
SAGE
2455 Teller Road
Thousand Oaks, CA 91320
www.sagepub.com